I'm busy working on my blog posts. Watch this space!
Please reload
Resolutions Are Not Hard - You Just Suck at Them: 6 Ways to Keep Going...
So it's mid-January, and your resolution for the year is already starting to need life support. Your promise to exercise more / eat healthier / drink less / make more time for family / read more....it's all going down the toilet.
"Why?" you ask? Well - there's no sugar coating anything here so you might as well drop those strawberry-filled jelly donuts. You suck at incremental progress / progressive overload / self-discipline. So, if you want to stop sucking, read this short list, and then actually do the things on the list:
1. Understand that You Are a Special Flower. No; Really. 
A lot of times, we decide subconsciously (and often consciously after years of verbal abuse from people around us), that we are not unique - that we are not powerful beyond measure - that we are not capable of anything. And you need to understand immediately that it's all a bunch of crap and lies designed to make you feel worthless. The truth is - you are absolutely unique. And you have multiple gifts that only you can share with the world. Your responsibility in this life is to figure out what those gifts are and how to use them (more on that in an upcoming post). You have infinite potential. And you have the power to create. You can even create yourself. You can decide to reshape yourself, your thoughts, your mind - all for the better (and for the worse if you are not kind to yourself). 
Because you have this infinite potential to create yourself, you can be whatever you can envision. As a person of faith, my religion teaches me that God created humanity, despite knowing its potential to do terrible things and cause immense suffering, because of its unique ability to learn. 
So understand that you can grow - and that you are completely special. If you're a person of faith, understand that it is your divine right to grow - to develop - and to reach your true potential. 
2. Growth Mindset.
Decide. To. Grow. 
Life is hard. Crap happens. If you want to attain the significant improvements you said you wanted when you came up with the resolutions, you have to be willing to suffer through discomfort even when it's not convenient. 
There is a lot of great material out there on what a growth mindset requires. Research shows that if you think you can achieve progress through hard work, you are going to achieve more than someone who thinks their talents and abilities are fixed.
Always have a growth mindset. Sometimes society tells us we can't do something phenomenal - that we can't achieve significant success. Society tells us it's easier to think about how tired we are rather than how much we want to accomplish our goals. But screw that. Demand yourself to grow. Even when it hurts - even when you're scared - even when you're exhausted - demand growth. Armed with the belief that hard work will result in actual results, you will absolutely achieve your goals. Grow. 
3. Get a Calendar. 
You can't crush goals without an agenda.
4. Sponges Suck. Don't be a Sponge. Be Sandpaper. 
Nobody has the right or the power to make you feel anything you don't want to feel. This can be difficult to learn, because it is natural to feel hurt when someone insults us. But it's easy to see the value of not absorbing the insults and negativity other people throw our way. So don't be a sponge. Ever try to absorb some crap with sandpaper? Exactly. Be sandpaper. 
History is full of stories of amazing people who overcame incredible adversity to defeat the odds: Oprah, Harriet Tubman, Coretta Scott King, Supreme Court Justice Sotomayor - just to name a few. 
You don't need to be the poster child of Stoicism, but it is critical to learn to let the insults and negativity roll off your back. When you try to change something in your life, you will run into criticism and unsolicited feedback. It is a mystery why anyone would think that they have the right to stop you on your path to progress and tax your time by telling you something unhelpful. But when they do - sandpaper up. Keep moving - and forget the people who do not have anything helpful to do or say.
Remember that first they will ask you why you're trying something new / or trying to do something productive. They're going to tell you it's useless. As soon as you actually prove them wrong, they're going to stop asking why and start asking how. 
5. Learn "Progressive Overload."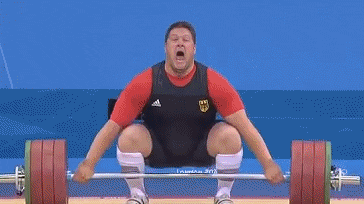 A lot of weightlifters use the term "progressive overload" to make a simple concept sound complex and mysterious. Basically - try to be a little better than you were yesterday. Make small incremental goals, and once you reach them - make a new incremental goal. 
6.  Drink More Water. Even Special Flowers Need Water. 
Subscribe at the bottom of the page. 



Please reload